Need Restoration?
Surface Prep?
Looking for Contaminant Removal?
Dry Ice Blasting Will Do That...
Factory Equipment?
Power Plant?
Construction Project?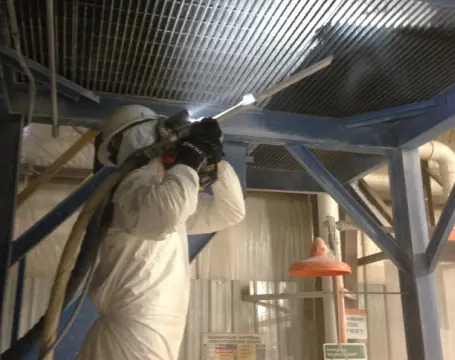 Dry Ice Blasting is a pressurized method for the removal of surface contaminants, such as mold, grease, paint, oil, gas, chemicals, barnacles, etc., from the most challenging, almost impossible cleaning jobs.
This technology can be applied to:
Brick Surface
Cement Surface
Fiberglass Surface
Granite Surface
Hard Wood Surface
Metal Surface
Stone Surface
i.e...
Building Façade, Pillars, Ceilings
Cement Walkway, Shopping Center
Chemical Plant
Commercial Vessel, Battleship
Distribution Center, Warehouse
Factory Floor Equipment
​Fire Damage
Food Processing Equipment
Heavy Equipment
​Holding Tanks
​HRSG
Intricate Machines (Printing Press, Coater, etc.)
Power Station
​Steel/Concrete Pool
​​Truck Depot
Turbines
​Warehouse
We do that!
WE ARE A GREEN CLEAN!!!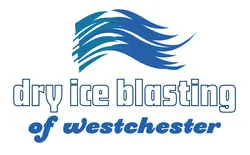 WE ARE A NORTHEAST COMPANY SERVICING:
CONNECTICUT, NEW JERSEY, NEW YORK, MASSACHUSETTS, and PENNSYLVANIA
Will Dry Ice Blasting Work for You?
A cleaning or stripping project that is a typical candidate for Dry Ice Blasting would be manufacturing equipment, chemical tanks, an industrial ceiling, a power plant, food processing equipment, a building façade, etc.
Some projects cannot allow any water whatsoever during cleaning. Some projects cannot allow chemicals or toxic fumes for a variety of reasons. Some projects are awkward, inaccessible, or susceptible to damage.
Dry Ice Blasting of Westchester will remove ANY CONTAMINATE from any surface, whether RUST, MOLD, PAINT, CHEMICAL BUILDUP, GRAFFITI, FIRE DAMAGE, etc.
Instead of using hard abrasive media to grind on a surface (and damage it), the dry ice blasting process uses soft dry ice accelerated at a very high speed. This creates mini-explosions on the surface to lift the contamination off the underlying substrate. This soft media can be very gentle or very powerful! A skilled and experienced dry ice blasting technician will know what adjustments are necessary. Our team practices safety, is OSHA certified, and is trained to make a difference on any project. We are proud to say that our employees are ex-military, firemen, or cops—quality employees, all of them.
Dry ice blasting has many benefits over traditional blasting media.
Here are a few:
Superior clean
Non Abrasive, nonflammable, and nonconductive
No secondary waste cleanup required
Can get into tight spaces that many other methods can not
Environmentally friendly: meets USDA, FDA, and EPA guidelines
No exposure to chemicals or grit media
Clean enough for the food industry, strong enough for everything else
Dry Ice Blasting is nontoxic.
Recent advances in technology have made it practical to be applied to everyday projects. Large surface restoration projects, in particular, will benefit from blast cleaning.
Professionally speaking, are you a plant or facility manager? Are you subject to inspection or fines? Have you ever bought or sold a property? Do you own and maintain expensive equipment? Are you a general contractor?
Optimal display of your assets, particularly critical functioning assets, is a business decision. Maintaining any valuable asset will prolong its life and increase its value. Dry Ice Blasting of Westchester will help you to maximize value.
Dry ice blasting is similar to other blasting techniques in one way and one way only. Sandblasting, plastic bead blasting, or soda blasting uses a medium that is accelerated in a pressurized air stream to impact a surface to be cleaned or prepared. But that's where the similarity ends. Nothing beats dry ice blasting.
Paint removal? 20-foot ceiling? Columns? No Problem. Dry Ice Blasting can easily be applied where chemicals cannot. Chemicals are toxic and dangerous. Using chemicals can present health risks to other workers. Lawsuits can be costly and can increase the cost of your project! Dry ice is natural, SAFE, and extremely effective. Whether your project is indoors or out, metal or concrete, coatings such as silicone, paint, tar, grease, etc., can be safely removed. No water, no mess. SAFETY FIRST!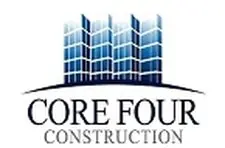 CONSTRUCTION! RESTORATION!
We are very proud to announce our partnership with an elite New York City-based general contractor called CORE FOUR Construction, located centrally at 200 Madison Avenue, NY, NY 10016, www.core4inc.com.
Any large construction project, new construction, building additions, etc., in the five boroughs, will benefit from a consultation with these established construction professionals. Serving New York and the tri-state area!
The nature of every project is different, and we find that some construction projects require a more aggressive restoration technique. To accommodate the need of some customers…
WE ALSO OFFER SLURRY BLASTING, AN EFFICIENT, MORE EFFECTIVE ALTERNATIVE TO SANDBLASTING!
If the project requires both methods, we are prepared to combine our soft dry ice blasting media with an abrasive media blasting technology for successful completion. Let us show you why our approach is superior to traditional cleaning and restoration methods.
Please ask us your application question. It could be something like this...
Has your electrical or mechanical equipment been failing? The Dry Ice Blasting process does not include any water, so it is safe to clean electric, hydraulic equipment, etc. A clean engine will deliver optimal performance and extend the life of your investment.
A simple example would be a clogged filter. Your machine is working twice as hard. You are spending more to run it and very well may need to repair or replace it sooner than if you maintained it or cleaned the filter. The same principle applies to any mechanical device or an electric device. Or perhaps a valuable piece of factory equipment worth $2,000,000 dollars, well worth preserving or proactively maintaining with dry ice.
A precision cleaning of any mechanism will ensure optimal performance and extend the life of your investment. A clear $$$ Advantage to you!
FACT: We only use COLD JET dry ice-blasting equipment.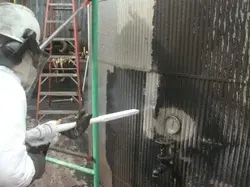 We chose Cold Jet technology because they have been in business for 30 years and are the industry leader in the Dry Ice Blasting business. This blasting technology has many applications. It is EPA, FDA, and USDA-approved. Perfect for environmentally safe restoration, marine, cement, brick, asphalt, intricate machinery, etc. This media is a proven technology that will provide an uncanny clean new look to an old relic, a monument, a machine, or a comprehensive historic restoration project. Factories, shipyards, brick buildings... EVERY INDUSTRY CAN BENEFIT FROM THIS POWERFUL CLEANING TECHNOLOGY.
Cold Jet has developed a system that allows easy entry into tight places that are otherwise impossible to reach using traditional cleaning methods. No other company can provide the variety of essential nozzles and accessories to ensure the complete removal of foreign particles from the multitudes of angles that a challenging job often requires.
It is virtually impossible to squeeze into tight corners to clean with a rag or to do sanding, scraping, etc. Dry Ice Blasting gets it all!