Although Dry Ice Blasting is the ultimate cleaning technology, there are certain applications that would require a more abrasive media, such as recycled glass. We offer this service and oftentimes will apply a combination of dry ice and recycled glass to a substrate depending on the contamination, substrate, and customer requirements.
A good example would be a brick wall/structure that has been painted. Bricks are porous and soft, particularly older bricks. Dry ice might do the job, but damage may occur as a result of high pressure being used. In this instance, we would opt to use a more abrasive media, such as recycled glass, that can be effective at a lower pressure. We use different machinery that will give you optimal results and restore the brick back to its original color.
Depending on the project, we may opt for a combination of both glass and dry ice to get the desired result. When we did Grand Central, NY, they requested that we use a combination of media blasting.
At Dry Ice Blasting of Westchester, we are certified Mold Remediation Specialists (MRS).
WE ONLY WORK IN COMMERCIAL OR INDUSTRIAL SPACES AFFECTED BY MOLD GROWTH.
The use of dry ice blasting technology will result in 99.9% of mold spores being completely removed from the wood, far more than traditional methods. It is the only way to ensure mold spore removal. We also use infrared technology to help identify hidden mold. Our focus is on health and the environment.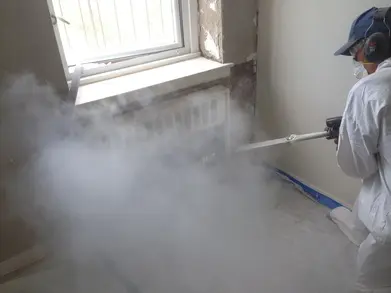 Here are a few proven facts
When mold grows and accumulates, it can become a health risk and even dangerous if ignored. Aside from adverse physical reactions, when left unattended, mold can cause structural damage to your home or building.
If you have had water damage or have found that mold has been growing beneath the floors or behind the walls, call us. We will incorporate a structured drying (a heat process), which is a basic first step toward complete mold remediation but definitely not the only step! Drying has to happen first. Remediation only begins when heat is applied. We follow the heat/drying process with our proven, more effective mold removal process that will result in thorough remediation and peace of mind knowing that all mold has been removed effectively.
More facts: The water and moisture source must be eliminated before the remediation process can begin. It is advisable that simple water-based chemical treatment be avoided. Water must not be reintroduced and used in the remediation process. Bleach treatment is NOT the answer. It is a temporary fix.
Mold is serious. We chose The International Restoration Institute (IRI) for certification because they are a global training organization that provides mold education and certification around
the world.
During the aftermath of Hurricane Katrina and again after Super Storm Sandy, it became apparent that discipline was needed in this field. The State of Louisiana passed a law that made mold certification mandatory for all contractors who were performing mold remediation. Several States have followed suit. New York mold laws were passed in 2015.
We use Infrared imaging to help identify hidden mold in your factory or facility. The last thing you want is cosmetic construction work performed on top of a mold problem that was not completely or effectively remediated. The mold will most likely reappear on you! You will be forced to do it again.
We will be happy to review your project at no charge, then direct you to a neutral, credible mold testing company(s).
Independant TESTING will give you UNBIASED RESULTS. We recommend the use of an independent third-party mold testing company every time.
Mold is serious. Always be sure that you are dealing with a certified MOLD REMEDIATION SPECIALIST (MRS).
It makes a difference.
3 BEWARES
BEWARE of false claims or unproven methods!
BEWARE when a mold contractor "advises" that testing is unnecessary.
BEWARE if a contractor offers to do the testing AND the mold remediation for you! It is important to note that an independent testing company will give you unbiased feedback and test results. Whoever does your testing should not be the one doing the actual remediation.
At Dry Ice Blasting of Westchester, we provide you with complete protocol and our plan detail.
Our service includes removal and/or demolition of the affected materials (carpet, drywall, insulation, studs, joists, etc.) in the immediate area. We will eliminate fungi emissions and related dust to ensure a safe, clean environment. We will use a chemical-free mold removal technique called DRY ICE BLASTING. Our equipment is advanced, state-of-the-art remediation technology. Call us to arrange a free consultation.
If you have a daunting project and you want serious results, consider us.
We use Cold Jet equipment exclusively for all mold removal projects since they have carefully considered the needs of the Mold Remediation expert. Cold Jet has developed a system that allows easy entry into tight places, otherwise impossible to reach, using traditional removal methods. No other company can provide the variety of essential nozzles and accessories to ensure complete spore removal from the multitudes of angles a mold remediation typically encounters. The difficult process of squeezing into tight corners to sand the mold off of wood trusses and joists, only to have mold spores remain, is soon to become a thing of the past. Dry ice blasting means that the use of biocides and encapsulation can be eliminated.
Some mold contractors are still using registered pesticides as their primary approach to mold remediation. Ask them that question. The fact is that it is not enough just to kill mold and then contain the left over mold since dead mold is still allergenic and must be removed. Dry ice blasting technology removes all mold spores, so these chemicals are no longer needed.